P-DOT 135
SKU: P-DOT-135
The large RGBW pixel dot that's built to last
Whether it's a bridge, stadium, or a one-of-a-kind installation, the auto-addressing P-DOT 135 pixel dot has been designed with serious project work in mind. Tough as nails, these robust machined aluminium dots will stand up to anything.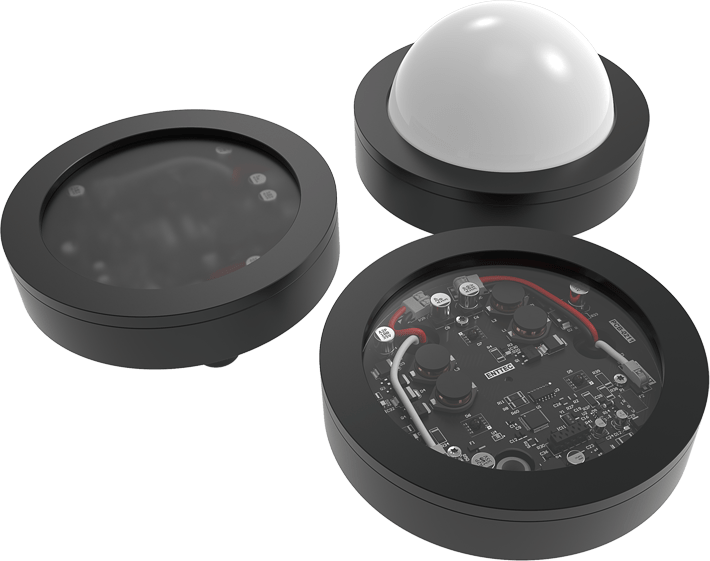 Smooth 16-bit dimming, RGBW high-brightness output, multiple diffuser options and robust machined aluminium housing are just some of the features that make the large RGBW pixel dot truly stand out from the crowd. You can also create long auto-addressing chains with input from ArtNet, KiNet or sACN by using ENTTEC's IP66 Plink Injector and Pixelator system or other LED Pixel Drivers.
In addition to the auto-addressing functionality of this fixture, designed to simplify installation, the P-DOT 135's superior electronic engineering and use of constant current LEDs means that long chains of consistent high light output can be achieved regardless of input voltage or voltage drop along the line. This means you can chain up to 128 P-DOT 135 from one controller (using the high current wiring method – see Specification Sheet for details).
With durability in mind, its IP66 body is machined from a single block of aluminium and can handle temperatures from as low as -15 or as high as 60°C. Its rear-facing cable and pressure equalisation glands allow for both a neat and clean installation making cable management simple. This feature allows for the best performance possible at any altitude or temperature. The P-DOT 135 also features additional installer-friendly features such as a resettable fuse on the data line to stop damage occurring if incorrectly wired. Furthermore, the P-DOT 135 features over temperature protection to autonomously reduce the light output in the most intense high-temperature conditions to protect itself from overheating.
Designed to be installed anywhere from building facades to bridges, its chassis allows for a number of flexible mounting options using accessories such as the Surface Mount or the Catenary Mount, making it perfect to suit the exact requirements of your project. But because every project is different, our engineers have designed the body of the P-DOT 135 so that it can be heavily customised. ENTTEC can provide pre-cabled, high-current or other versions on a per-project basis.
Features
Prepared for the elements
Rated IP66, the P-DOT 135's 6061 aluminium chassis has features a 2-step anodizing process. Combined with any of the UV-stabilised diffuser options, it is perfectly prepared to stand the test of time whilst exposed to the elements. The rear of each unit features a breathable valve allowing for pressure equalisation in every environment it is installed within. This, alongside its wide ambient temperature range of -15 to 60°C makes the P-DOT 135 perfectly suited for virtually any environment.
Ideal for any installation
When fitted with either the surface mount or catenary brackets, the P-DOT 135's solid design is perfectly suited for mounting in almost any conceivable location. Its design relies upon convection cooling without the need for fans, resulting in less power draw and less servicing, as well as being virtually silent.
When the size does matter
The P-DOT 135 is one of the largest pixel dots of its kind: 135mm wide by 28.5mm high (with a flat dome).
Best light output in its class
The P-DOT 135 is a powerhouse, combining both reliability and functionality. Three RGBW CREE XMLCTW LED provide up to 1200lm for consistent output, visible both day or night. Combined with 16-bit per channel dimming, it allows smooth fading between accurate natural whites, pastel, and saturated colours.
Pixel control made simple
At ENTTEC, we always aim to build products that provide simple setup and configuration, allowing you to focus on the more taxing elements of your installation. The P-DOT 135 relies on WS2812b as a control source. This auto-addressing protocol enables easy connection and configuration by the installer. Simply connect the data input to a WS2812B source (such as the Pixelator / Plink system / Pixel Octo / Pixel Triton to provide power and begin controlling your dots.
Go custom!
If you require custom features not specified here, our in-house engineering team can evaluate your requirements and endeavour to deliver a product suited to your exact requirements. Get in touch with us to find out more.
P-DOT 135 STANDARD SPECIFICATIONS
Ingress protection
IP66
Power Input
12-60VDC
Data Input
WS2812B
LED Type
CREE, RGBW, XMLCTW
Ambient Temperature
-15°C TO +60°C*
Body Material
6061 aluminium
Material Treatment
Anodised, 15um, Type II, 2-step process
Diffuser Material
PMMA
Cable Sheath
VC V75 (UV stabilised)
Weight
0.68kg/1.5lbs
Warranty
3 Years
Mounting options
Designed to be installed anywhere from building facades to bridges, the chassis allows for a number of flexible mounting options using our Catenary or Surface Mount accessories.
Diffuser Options
Choose from dome opal, flat black or flat clear.
Dimensions
ENTTEC Pixel System
Compatible products
The P-DOT 135 pixel dot requires DC power and data input. We recommend the use of the ENTTEC Pixelator and PLink products. See below for some of the best options:
| DATA | SKU | DATA AND POWER | SKU | INJECTOR | SKU |
| --- | --- | --- | --- | --- | --- |
| Pixelator | 70060 | Pixel Port 12V | 76303-12 | PLink Injector (12-24V) | 73544 |
| Pixelator Mini | 70066 | Pixel Port 24V | 76303-24 | PLink Injector (5-60V IP66) | 73923 |
| Pixelator Mini (PX1-8D) | 71066 | | | PSAT 12V | 75009-12 |
| Pixel Octo | 71520 | | | PSAT 24V | 75009-24 |