Next generation of DMX/USB interfaces with 2-universe (1024ch) output and standalone mode. An all-in-one, convenient and slim interface.
Features
Downloads
Tutorials
€190.00 + VAT
The Industry Standard DMX Interface
The DMX USB Pro Mk2 interface builds on the functionality of the original DMX USB Pro to provide even more functionality in a smaller footprint.
Introducing the new industry standard DMX/USB interface. The DMX USB Pro MK2 can control up to 1024 DMX channels or receive them through one simple USB 2.0 connection. It interacts with a broad array of supported 3rd party commercial and free software running on either PCs or Macs. The Pro MK2 is fully backward compatible with any software that already works with the original DMX USB Pro to support a single universe. In addition to doubling the channel capacity of the existing DMX USB Pro, the Pro MK2 introduces a new standalone playback function.
The DMX USB Pro MK2 also features an internal frame buffer for consistent DMX generation when outputting. This means it isn't dependent on your PC's processor to regulate a steady, reliable flow of data to your fixtures regardless of your PC's workload. With industry standard-5 pin input and output connectors using the included breakout cable, you can plug your Pro MK2 directly into a fixture for quick on-site RDM analysis (in combination with 3rd party software). With ENTTEC's free configuration tools, a 1 universe DMX stream can be recorded using Art-Net and then imported into your Pro MK2 or directly through the Pro MK2's DMX input port. This can be saved onto the USB Pro Mk2's internal memory for infinite looping or for one-time playback following powerup.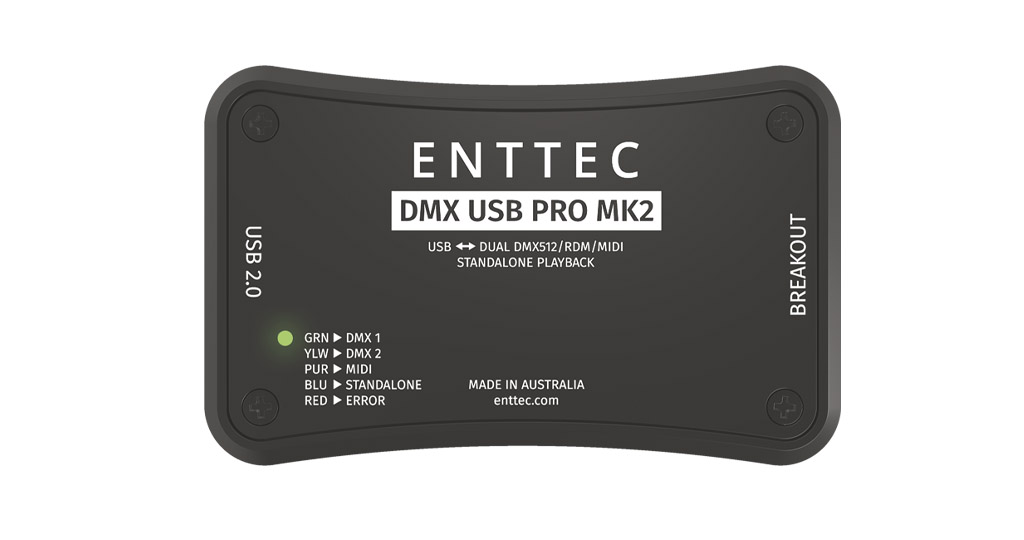 Perfect for art installations, shop displays or any other space requiring up to 512 channels of reliable DMX playback. Each DMX port features 1500V full isolation for both Data and power lines. You can rest assured that your computer will be protected from any stray voltages and faults that may occur on the DMX line. Delays and dropouts are history, even under heavy use, thanks to a CPU six times faster than the previous generation. Its machined aluminium hardware and tough black anodised finish ensure the DMX USB Pro MK2 is a durable road warrior. Another great feature is the status and activity of the DMX USB Pro MK2 that can be viewed quickly using it's RGB LED status indicator to show per-port the DMX activity or if a connection error has been detected or if 3rd party software has sent an unsupported command.
Delays and dropouts are history, even under heavy use, thanks to a CPU six times faster than the previous generation. A machined aluminium box ensures the DMX USB PRO MK2 is a durable road warrior. And its black anodised finish makes it the best-looking device in its class.
Features
Control lights from your computer
Connect your favourite supported control software to your lights. The next generation of USB interfaces is here, with a smaller footprint yet more features: 2 universe (1024 channels) and Standalone operation. For a list of compatible software click here!
Most powerful CPU
Newly-designed electronics with a CPU 6 times faster than the previous generation guarantees no delays or drop-outs to your lights, even under heavy use.
Attention to detail
The custom-designed and precisely CNC-machined aluminium box gives the product outstanding durability for on the road use. The deep black, tough anodised finish, makes it the best looking device in its class.
Unparalleled connectivity
Two fully-isolated DMX/RDM outputs or inputs can control up to 1024 channels. No need to carry multiple devices; the DMX USB PRO Mk2 does it all.
Standalone
Standalone mode allows you to store your light show inside the DMX USB PRO MK2 and play it back without connecting your PC (just add power!). Ultra reliable, the inbuilt memory allows recording of full 512 channel light show. This feature is ideal for architectural, retail and display applications. Record using our EMU software to either receive a full universe of ArtNet or DMX to your DMX USB Pro Mk2.
Outstanding control software
Fully backward-compatible with all software titles that support DMX USB PRO
Dual, fully independent, DMX ports each with full RDM capability
Package includes micro USB cable and break out cable (DMX only)
Standalone operation for unattended replay of 512 channel lighting shows
One firmware version supports all features
Aesthetically slim-profile, machined aluminium box
True 1500V isolation separating all DMX ports from each other (protect your computer and each data line from surges)
Internal frame buffering (preserve data integrity when computer is busy)
Utilizes the FTDI chipset, (compatible with Windows, OSX, Linux etc.)
Stores configuration and user data in EEPROM
Refresh rate configurable from 1 to 40Hz
Break time configurable from 96uS to 1.3mS
MaB time configurable from 10.6uS to 1.3mS
Upgradeable firmware
Security / software protection API
Official Tools:
EMU
EMU isn't only just a great lighting tool made for creating beat perfect light shows. It allows access to update firmware and configuration of your DMX USB PRO MK2 and runs on Windows and MacOS.
Downloads
Documents
Firmware
Sample Shows
Developers
Related products
Categories: DMX, Hardware, Network and Distribution, RDM, Splitters, Splitters
Tags: 71004, 72004, DMX splitter, opto-splitter, RDS4