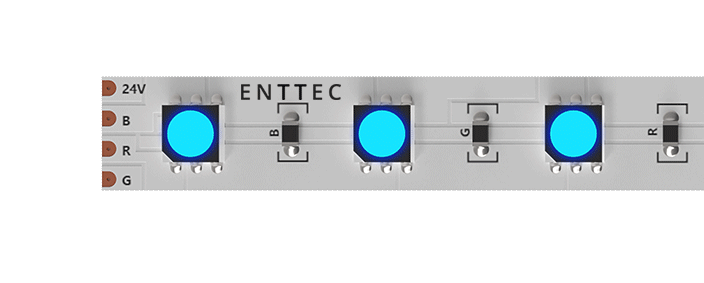 9VL4 – RGB LED tape (10m)
Our 9VL4-10 RGB tape provides an ultimate RGB output and is designed and produced to the highest ENTTEC quality standards.
We think it's the best RGB tape you will ever use.

Features
High-grade RGB
Thanks to a brilliant output configuration, 9VL4-10 is the best RGB tape to ever come out of the ENTTEC LED factory. You'll experience quality unlike any other tape on the market.
High density
With 60 high-quality RGB LEDs crafted per metre, this tape outshines the competition.
Power and performance
Highly efficient at less than 11W total power consumption per metre. Copper track for effective heat dissipation and long life.
Specifications
| DC Power | W/m | LED Quantity | Product Family | Product Code | Colour | Lm/m | Input Current 1M | Input Current 5M | IP | Reel Length | Strip Width | Cuttable | Maximum Continuous Length |
| --- | --- | --- | --- | --- | --- | --- | --- | --- | --- | --- | --- | --- | --- |
| 24V | R : 4.45 | 60/m | 9VL4 | 9VL4-10 | RGB | R : 66 | R : 0.19A | R : 0.93A | 20 | 10m | 10mm | 100mm | 10m |
| #rowspan# | G : 3.31 | #rowspan# | #rowspan# | #rowspan# | #rowspan# | G : 179 | G : 0.14A | G : 0.69A | #rowspan# | #rowspan# | #rowspan# | #rowspan# | #rowspan# |
| #rowspan# | B : 3.12 | #rowspan# | #rowspan# | #rowspan# | #rowspan# | B : 42.6 | B : 0.13A | B : 0.65A | #rowspan# | #rowspan# | #rowspan# | #rowspan# | #rowspan# |
Downloads
Compatible with
Compatible controllers